Event

Count down

JavaScript either reported a fatal error or is not running.
Trail

Alert!!

Trails CLOSED Zones 1,2,3,4,5 | ALL ZONES - February 6rd 7:00 AM | Drifters Club Trails = Zone 2 | Please STAY ON THE TRAILS!!! or You will be TICKETED | Call (920) 232-1960 opt. 4 Open/Close Status |The county now has 5 zones | Zone Map | Facebook Trail updates

THINK SNOW! | Join a Club, Volunteer, help make the best trails around! | Groomer Report

Snowmobile GPS info: I use a Garmin Nuvi with Trail Systems combination Ram Mount
VV Mapping | Very detailed - Clubs are sent GPS to record actual trail data when grooming (compiled by VV Maping)
Red Pine Mapping | Very detailed - Family Company
Complete Wisconsin Trails overlayed on Google Maps - Here
Mounting Solution:
Trail Systems - Click here (I run this Mount. Well designed no modifications needed.)
RAM Mounts - Click here
Sticky Mount Base - Click Here
Information overview of Sites:
VV Mapping | Looks Very detailed
Our maps have the trails shown where they actually are based on GPS recordings. Most other available maps that cover ORV trails or snowmobile trails are artist renditions of what the trail might look like in the general area it might be.
Michigan alone has over 9000 miles of public Snowmobile and ORV trails and our products cover them all.
Maps available now for Michigan, Ohio, Indiana, West Virginia and Wisconsin.
We are enthusiasts making products for enthusiasts.
Overview of map features and as seen on the GPS Screen.
The trails are shown as a bright yellow/orange color which stands out from the rest of the map. Certified county roads are shown as black lines, other roads, such as forest roads are shown as dashed lines. Trails are labeled by their trail number.
Also available is the combined Snowmobile and ORV trail system maps.
Covers all of these States in 1:24,000 detail. The Snowmobile Trail system is included in it's entirety. Each trail has been documented with a GPS unit and regularly updated, the most accurate product available. Note some areas of southern and western Wisconsin are still being updated/GPS'd and will be included in future releases.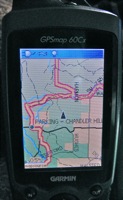 Now you can know where you are on the trail, where the parking lot is, which roads are near by and even which trail intersection is coming up. This map is fully "routable" enabling you to pick a destination and have the GPS guide you by trail and road to that point. The routing function is designed to prefer trails over roads. Gas stations show on the map, even at 5 miles of zoom in addition to full search functionality for such points of interest.
This map installer is designed to integrate into an existing copy of Garmin's MapSource or BaseCamp, allowing you to interact with our maps, plan trips and send information back/forth with your GPS.
This map covers all of Michigan, Indiana, Wisconsin and Minnesota. It is built on the most recent 1:24,000 scale data and includes highways, roads, water features and various points of interest. It also has public land data including State Parks, State Recreation Areas plus other State, USFS & Military land sections. Numerous non-motorized trails (hiking) are also included. ORV Trails are NOT included.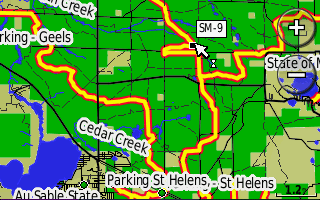 It is segmented by county, so you can load all of the counties or just a couple to suit your, or your GPS's needs. They range in size from a few hundred K to a couple megabytes. All total there is over 200 MB of map data with this installer.
Includes complete forest road coverage for all of the National Forests in each State, straight from their Motor Vehicle Use Map.
Red Pine Mapping | Very detailed - Family Company
Our 2016 GPS SledMap USA map is ready! You get Michigan, Wisconsin, Minnesota, North Dakota, New York, Maine, and New Hampshire for $10 less than last year! We continue to add and update trails each year and our 2016 map is no exception.
Routable - Turn By Turn Directions
Plan a route and have your GPS show you where to turn at a glance! Routes can be created on your computer or on the GPS itself. Our maps are also packed with thousands of gas, food, lodging, parts & repair locations complete with phone numbers so you can call ahead. See the distance remaining to your destination as you ride. The majority of the trails on our maps are labeled and color coded (main corridor trails, secondary trails, local club trails, etc.).
Incredible Detail
In addition to snowmobile trails, our map also includes highly detailed coverage of roads, lakes, rivers, public and private land, county boundaries, cities, railroads, natural landmarks, and cell towers (so you know where your signal will be strongest if you need to make a phone call). The roads have been hand edited and compiled from multiple sources to provide the most complete collection of small rural and forest roads available.
Easy To Use!
Our installer is easier to use, so you'll be ready to go in no time. We also have video tutorials to walk you through each step. If you can't find the answer to your question on our help page, we'll answer you as soon as possible via email.
Delivery Options
The map is available as an instant download so you can have your trail map on your GPS in minutes. Your map can also be sent to you on a pre-loaded memory card, so you can just plug it in and go. If you have never downloaded and installed a map on your GPS before, we recommend you get the pre-loaded card. The installation process is for advanced users.
Club

Calendar
Who's

Online

We have 43 guests and no members online